As the last tide of 2017 recedes, and the waxing moon of the New Year rises, it's a natural time to reflect on past adventures and prepare for new ones. We've weathered some more of life's heavy gales, and it's important to remember that everything in life is preparation for what comes next. We look forward in humble anticipation for what lies beyond the next horizon, ever grateful for the experiences in our wake and all of the lessons that they brought. The coming year is a blank canvas with great potential, and an opportunity to begin anew. We have so much to be thankful for. With that in mind, Here is the shortlist of wonders from 2017...
1. LANDED A JOB IN GREECE!
After three years of living and working in New England on the 37' Carriacou sloop, Summer Wind, we were ready for some bigger adventures, more miles, and honestly, a little more space! We had a lot of fun running trips around New England, up and down the East Coast, to the Bahamas and back again, and felt we had pushed the limits of her capabilities. Summer Wind was originally built on the beach in Carriacou as a fishing vessel. (You can learn more about the interesting history of Carriacou sloops and traditional West Indian boat building by clicking here.) So, when we caught wind of a beautiful, traditional, 72' schooner in need of a crew we jumped at the opportunity! Our last year living and working on this boat was wild, challenging, and incredibly enlightening.
2. WE GOT ENGAGED!
Denis popped the question! And Allie said, "YES!" After a short weekend trip to the island of Aegina, we were having a sundowner (or as we call it a "bow spritzer") and easing into the evening when Denis got down on one knee. He had a familiar bag in hand, that was a signature of our beloved friend and scrimshaw artist, Scrimbones. Inside the bag, Denis pulled out a beautiful seashell, that he had repurposed to hold a ring of white gold and a sapphire jewel, that had been collected under sail and hand made in the Caribbean islands. We feel so lucky to have each other and are beyond excited to be getting hitched in 2018!! WOOHOO!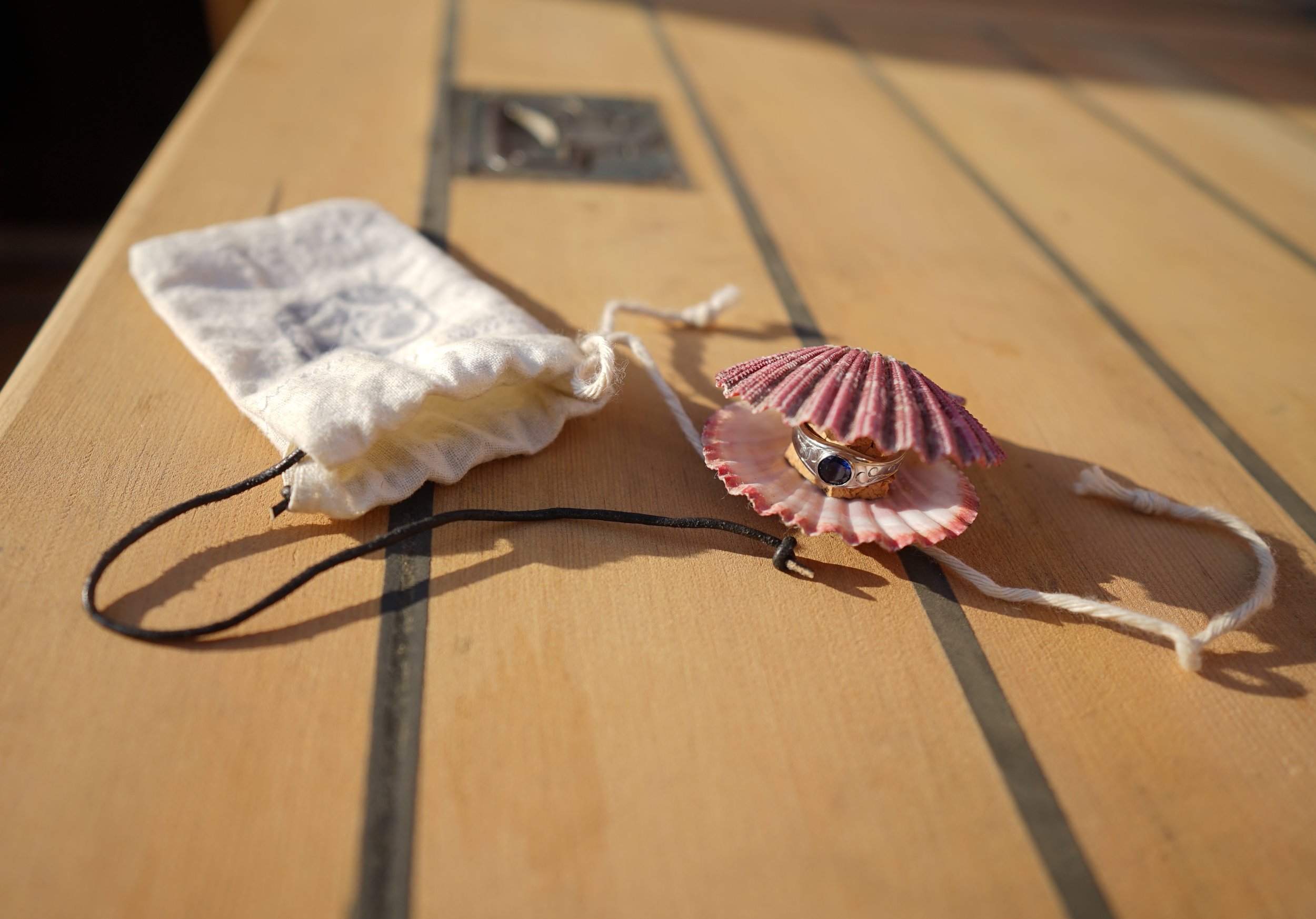 3. SPENT THE SUMMER EXPLORING OVER THIRTY DIFFERENT GREEK ISLANDS!
Denis, a seasoned sailor of the Aegean, spent five seasons working in Greece earlier in his career. He knew the beauty, mystery, and enchantment that Greece has to offer. Allie, never having been to Europe had no idea what to expect. We sailed over 3,000 miles during the summer, in one of the world's most powerful seas as captain and crew of a 72' traditional schooner. We sought out islands that were remote and free of the buzzing of tourism, finding scenes and personalities of times past. This adventure only intrigued our curiosities more about the places, characters, and experiences, we have yet to discover. It has inspired us to jump ship and find our own honest, simple way of life, with the freedom to chart our own course.
4. FOUND OUR OWN LITTLE SCHOONER!
One of the most exciting things that happened in 2017, also happens to be one of the most terrifying. We are buying our first home, our very own little, wooden schooner. Ain't she a beaut? Anyone who owns a wooden boat, or has worked on one, knows it is a labor of love and that 2018 and the years to come will be filled with lots of sweat, tears, and blood, (oh! and tons of sandpaper!) We also know that it will be one of our biggest adventures filled with love, laughter, and good friends. We look forward to sharing more about this new endeavor in the coming months, including the launch of our own business, Little Schooner Studios, so please stay tuned!!
5. ENJOYED A WHOLE MONTH HOME IN NEW ENGLAND FOR THE HOLIDAYS!
One of the biggest drawbacks to living a transient life is being so far away from family. It also makes the time we have with them so special. This month, having time to spend with members of both sides of our family was a true gift. We feel so lucky to have family and friends that are so loving and supportive of us in all of our crazy ideas. In a few days, the time will come for us to return to Greece. It will be hard to leave them, but they all have passports! Boy does a month fly by... (sorry if we missed you this time).
wishing you fair winds & happiness in the New Year!!
-D&A